In line with the celebration of the Philippine National Hero Dr. Jose Rizal's 150th birth anniversary, Philippine Postal Corporation (PHILPOST) came up with Jose Rizal @ 150 commemorative stamps that was issued on June 19, 2011.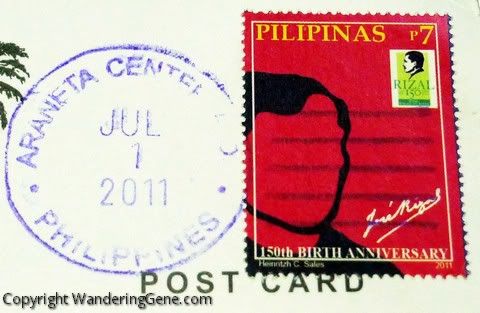 I am yet to find a post office that sells Rizal@150 souvenir sheets. One postcard enthusiast bought hers in the main Manila Post Office. Guess I'll have to travel that far for this limited edition stamps.
And because I was desperate to get a hold of this commemorative stamps, I decided to send some postcards to my mailing address.
The technical description of the 1861-2011 Jose Rizal@150 Haligi ng Bayan stamps are as follows: (Source: http://philpost.gov.ph)
Kind of Issue: Commemorative

Denomination and Quantity:Php7.00 /
Se-tenant Pair 1: 70,000 pieces
Se-tenant Pair 2: 70,000 pieces

Date of Issue: June 19, 2011

Last date of Sale: June 18, 2012 ( or as stocks allow)

Size: 30 mm x 40 mm

Sheet Composition: 40

Souvenir Sheet: Php 150.00 / 6,000 pieces

Size of Souvenir Sheet: 120 mm. x 175 mm.

Perforation: 14

Printing process: Litho offset

Paper: Imported Unwatermarked

Printer: Amstar Company, Inc.

Designers: Winners of Stamp Design Contest sponsored NHCP namely,
Pair 1: Marc Aran C. Reyes
Lex Kempo Y. Lacar
Deanne Fernandez
Pair 2: Ramon Vizmonte
Heinritzh C. Sales

Design Layout Artists:
(Stamps) : Victorino Z. Serevo
(Souvenir Sheet) : Jesus Alfredo Delos Santos

Design Coordinator: Dr. Ngo Tiong Tak

Designs: Marc Aran Reyes (FEU)
The artist wanted to show Rizal standing with a dove beside him symbolizing Rizal's aspiration for freedom. The Philippines, like a dove, is meant to be free from all kinds of oppression. Also depicted is the cover of the Noli Me Tangere, one of Rizal's greatest novels. He also included the elements of the flag: the stars and the rising sun, symbolizing hope and bright future.

Lex Kempo Lacar (FEU)
To show how Rizal became a pillar of the nation, there is a depiction of the colors and elements of the National flag (blue, red, three stars and a sun). The sun also symbolizes Rizal's peaceful quest for freedom.

Deanne Fernandez (FEU)
The Noli Me Tangere symbolizes Rizal's writing that has inspired Filipinos and awakened their nationalistic consciousness. The oil lamp stands for enlightenment and reason, which was Rizal's advocacy in attaining freedom. His face takes center stage as he is the most important part of the design.
(Design on the cache of the First Day Cover)

Ramon Vismonte (Team Manila)
The design is rendered in monochromatic blue, which symbolizes Jose as an advocate of reforms through peaceful and diplomatic means. The solid block at the left stands for the theme, Rizal: Haligi ng Bayan. It also signifies darkness and uncertainties. However, the sun at the background is for hope; suggesting to us to stay strong and be inspired by the legacy of Jose Rizal. The three stars represent Faith, Science and Creativity; things the artist associated with Rizal. The artist believes that that will make our country great. The angle by which Rizal is portrayed, looking up, suggest the feeling of being proud and hopeful for our country. The artist wants to convey the same message to his countrymen, at the same time, to be grateful and learn from the past.

Heinritzh Sales (Team Manila)
The aim of the faceless profile is for us to reflect who Rizal really is and what he has done to our country. The red color symbolizes the courage demonstrated by Rizal in writing his two books, which stirred the nationalistic revolution of his country. The white border represents our former colonial master, Spain. It also represents the theme, Rizal: Haligi ng Bayan. Rizal is placed partially outside the border, symbolizing his contribution in leading his country to independence. The same is applied in the figure 150, wherein it is partially out of the picture, symbolizing our gratefulness and celebration of his life for years to come.
(stamps description taken from NHCP Press Kit)